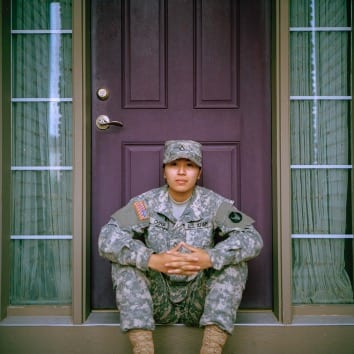 To say that civilian life is different from the military is probably a vast understatement. Everything changes when you leave the service, and one of the most important changes you confront is having to deal with financial issues. Here's what you know to get started on the right foot.
Finance 101 
Young veterans often encounter more financial challenges than those who serve longer, especially if you entered the military right out of high school. Despite the potential challenges, there is good news, as Military Times reports that veterans experienced an increase in financial well-being from 2015 to 2018.
Of course, you aren't a statistic. You're an individual, and your financial needs are unique. To find a good financial strategy for YOU, start by looking at your overall financial situation, including income, debt, and other expenses. Then you can set a budget and address any issues. Unfortunately, it's fairly common for young veterans to have financial concerns, especially debt and low credit scores.
If your current financial picture isn't as bright as you'd like, these are the first issues to tackle. Start by looking into ways to bring up your credit score and get on top of debt, such as making credit card payments on time and researching options for debt consolidation. Brush up on budgeting basics too so you can start spending and saving wisely, and add a budget app to your toolkit to help you monitor spending carefully.
Cover Your Bases
A lot of the benefits you had on active duty, like health insurance and life insurance, either aren't available or won't provide the full coverage you need as a civilian. For example, you may no longer have life insurance coverage or comprehensive coverage for funeral expenses.
As a veteran, you're entitled to burial benefits from the VA in the range of $300 to $780. However, funeral costs average around $9,000, so you can see how the VA coverage may fall short of what your family would need to cover those costs.
Most people don't want to think about needing either of these, but the reality is that life insurance and funeral insurance policies are there to protect your loved ones, especially at a time when they would already be dealing with grief.
Gain Employment
For some veterans, finding a job as a civilian is relatively easy. For those with military and educational backgrounds in computer technology, healthcare, and engineering, jobs are plentiful. However, not all veterans want to pursue a job in the field they specialized in while they served. Luckily, there are other options, like starting your own business.
Of course, entrepreneurship is not without its challenges. Logistically speaking, the steps to setting up your own Virginia LLC are simple. You can even do it yourself. But you'll also have to create a business plan, research your market, and pitch your idea to obtain funding to get started. Make sure you research and apply veteran-specific loans and grants, in addition to government purchasing programs that prioritize veteran-owned businesses.
Plan for the Future
Now the fun part of financial planning: setting big financial goals. These big goals may seem out of reach, but resources for veterans can make them more affordable than you think.
For example, if you plan on buying a home, or if you're already a homeowner and want to refinance, you may be able to access special home loans through the VA. In many cases, you can get a VA loan with no down payment, and you can save money through lower interest rates and not having to buy private mortgage insurance (PMI). Owning a home is the classic American dream, and these benefits make it much more attainable.
Another major life goal for many veterans is the opportunity to further their education. If your entire career has been in military service up to this point, getting a college degree or learning a trade can dramatically improve your earning potential.
To make your education affordable, veterans can get assistance through the GI bill, but you should also look into additional benefits through your college or university. According to U.S. News, a good number of colleges provide tuition breaks, scholarships, and services to veterans, such as free parking and credit for military training.
It's also smart to think about investing and saving for the future. Along with setting aside enough money for a rainy day fund, be sure to take advantage of other savings opportunities. For example, Forbes recommends the Thrift Savings Plan, which includes low-cost mutual funds to help you save for retirement.
Retirement may seem like it's too far off to think about, but now is the perfect time to put the right financial plans in place — both for the short term and into the future. This next chapter in your life is full of possibilities. A solid financial plan is what it takes to turn those possibilities into reality.
Photo credit: Unsplash
You can find additional Veterans Resources here.