A PERSONAL AND
PROFESSIONAL GUIDE
BY
TERI PROBASCO
AND
GRETCHEN A. GIBBS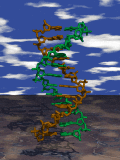 ---
Book and ordering information:
A personal and professional guide about Klinefelter Syndrome written by two parents whose sons were diagnosed with this genetic condition. 
The booklet costs $9.95 + $4.95 (for shipping and handling).  At this time, the booklet can only be purchased by mail from:
PRINIT PRESS

211 Northwest Seventh Street

Richmond, Indiana 47374

or call:1-800-478-4885
They do accept VISA, MasterCard, and Discover charge cards.
The booklet contains 83 pages of text and 27 pages of Addenda and References.
---
About the authors:
Teri Probasco, in addition to being the mother of an 18-year-old XXY son, is a published author and teaching professional. She passed away in January 2001.  Gretchen A. Gibbs, M.S.N., is a family physician.
---
Personal viewpoint:
I found this book to be very interesting and informative.  I feel that anyone dealing with Klinefelter Syndrome/XXY would want to have this book as a part of their reference library. This book was written more than 20 years ago and may or may not still be available.